Hello guys.
I want to open new window from button. But my design comes from Qtdesigner.
The question about QtDesigner based codes!!!. The main problem is all those tactics are not working on qtdesigner based .py files.
For examples:
I put one button at Qtdesigner. There is nothing more.
Just i wanted, when i push the button launch the same window.
when i translate to python code, it gives me a class and an if structure.
Here i explained with photos: open new window in pyqt5 | Qt Forum
Because of this reason i copied the class and change name
class Ui_MainWindow(object): >>>>>>>>>>>>>>>class Ui_MainWindow2(object):
Now i have two classes. In first class i will tried to call second class.
This the first untouched code:(so long

)
# -*- coding: utf-8 -*-

# Form implementation generated from reading ui file 'x.ui'

# Created by: PyQt5 UI code generator 5.15.2

# WARNING: Any manual changes made to this file will be lost when pyuic5 is

# run again. Do not edit this file unless you know what you are doing.

from PyQt5 import QtCore, QtGui, QtWidgets

class Ui_MainWindow(object):
def setupUi(self, MainWindow):
MainWindow.setObjectName("MainWindow")
MainWindow.resize(260, 226)
self.centralwidget = QtWidgets.QWidget(MainWindow)
self.centralwidget.setObjectName("centralwidget")
self.pushButton = QtWidgets.QPushButton(self.centralwidget)
self.pushButton.setGeometry(QtCore.QRect(90, 120, 75, 23))
self.pushButton.setObjectName("pushButton")
MainWindow.setCentralWidget(self.centralwidget)
self.menubar = QtWidgets.QMenuBar(MainWindow)
self.menubar.setGeometry(QtCore.QRect(0, 0, 260, 21))
self.menubar.setObjectName("menubar")
MainWindow.setMenuBar(self.menubar)
self.statusbar = QtWidgets.QStatusBar(MainWindow)
self.statusbar.setObjectName("statusbar")
MainWindow.setStatusBar(self.statusbar)

    self.retranslateUi(MainWindow)
    QtCore.QMetaObject.connectSlotsByName(MainWindow)

def retranslateUi(self, MainWindow):
    _translate = QtCore.QCoreApplication.translate
    MainWindow.setWindowTitle(_translate("MainWindow", "MainWindow"))
    self.pushButton.setText(_translate("MainWindow", "PushButton"))


if **name** == "**main**":
import sys
app = QtWidgets.QApplication(sys.argv)
MainWindow = QtWidgets.QMainWindow()
ui = Ui_MainWindow()
ui.setupUi(MainWindow)
MainWindow.show()
sys.exit(app.exec_())

I just copied the class. Now i have two. And i added a simple def for calling the other class.
It's offer me build init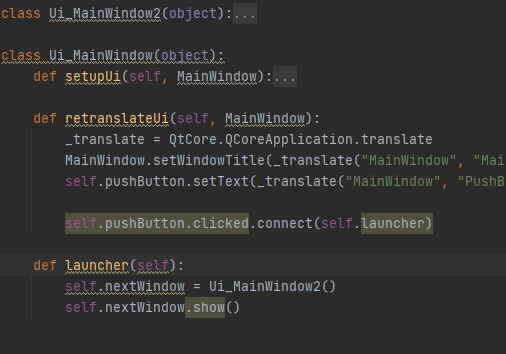 I accepted
Finally any solution didn't help me. Especially designer based codes hasn't solution.
from PyQt5 import QtCore, QtGui, QtWidgets

class Ui_MainWindow2(object):
def setupUi(self, MainWindow):
MainWindow.setObjectName("MainWindow")
MainWindow.resize(260, 226)
self.centralwidget = QtWidgets.QWidget(MainWindow)
self.centralwidget.setObjectName("centralwidget")
self.pushButton = QtWidgets.QPushButton(self.centralwidget)
self.pushButton.setGeometry(QtCore.QRect(90, 120, 75, 23))
self.pushButton.setObjectName("pushButton")
MainWindow.setCentralWidget(self.centralwidget)
self.menubar = QtWidgets.QMenuBar(MainWindow)
self.menubar.setGeometry(QtCore.QRect(0, 0, 260, 21))
self.menubar.setObjectName("menubar")
MainWindow.setMenuBar(self.menubar)
self.statusbar = QtWidgets.QStatusBar(MainWindow)
self.statusbar.setObjectName("statusbar")
MainWindow.setStatusBar(self.statusbar)

    self.retranslateUi(MainWindow)
    QtCore.QMetaObject.connectSlotsByName(MainWindow)

def retranslateUi(self, MainWindow):
    _translate = QtCore.QCoreApplication.translate
    MainWindow.setWindowTitle(_translate("MainWindow", "MainWindow"))
    self.pushButton.setText(_translate("MainWindow", "PushButton"))


class Ui_MainWindow(object):
def **init**(self):
self.nextWindow = Ui_MainWindow2()


def setupUi(self, MainWindow):
    MainWindow.setObjectName("MainWindow")
    MainWindow.resize(260, 226)
    self.centralwidget = QtWidgets.QWidget(MainWindow)
    self.centralwidget.setObjectName("centralwidget")
    self.pushButton = QtWidgets.QPushButton(self.centralwidget)
    self.pushButton.setGeometry(QtCore.QRect(90, 120, 75, 23))
    self.pushButton.setObjectName("pushButton")
    MainWindow.setCentralWidget(self.centralwidget)
    self.menubar = QtWidgets.QMenuBar(MainWindow)
    self.menubar.setGeometry(QtCore.QRect(0, 0, 260, 21))
    self.menubar.setObjectName("menubar")
    MainWindow.setMenuBar(self.menubar)
    self.statusbar = QtWidgets.QStatusBar(MainWindow)
    self.statusbar.setObjectName("statusbar")
    MainWindow.setStatusBar(self.statusbar)

    self.retranslateUi(MainWindow)
    QtCore.QMetaObject.connectSlotsByName(MainWindow)

def retranslateUi(self, MainWindow):
    _translate = QtCore.QCoreApplication.translate
    MainWindow.setWindowTitle(_translate("MainWindow", "MainWindow"))
    self.pushButton.setText(_translate("MainWindow", "PushButton"))

    self.pushButton.clicked.connect(self.launcher)

def launcher(self):
    self.nextWindow.show()


if **name** == "**main**":
import sys
app = QtWidgets.QApplication(sys.argv)
MainWindow = QtWidgets.QMainWindow()
ui = Ui_MainWindow()
ui.setupUi(MainWindow)
MainWindow.show()
sys.exit(app.exec_())