I'm currently working on updating the videos (including adding videos for all tutorials on the site & updating them for Qt6). One the issues is there are now 4 (!) variants of Qt for Python, with PyQt5, PySide2, PyQt6, PySide6.
Until Qt6 editions have feature parity I need to continue supporting Qt5.
For the books, the code snippets (for the most part) are auto-converted. Since I have a converter that works, I thought I could use that in the videos live to present both versions simultaneously. I've done a quick demo, and it would be great to get feedback on whether this feels like a good solution?
A short video is available here:
As I write the code in PyQt5, it is auto converted to PySide2, and PyQt6 (including the long-namespace names).
In the video I'm using 3 vertical panes auto-updating from the pyqt5 source (PyQt5, PySide2, PySide6). I think in practise this is too much. A grid of 4 is maybe better, but maybe that view is too small?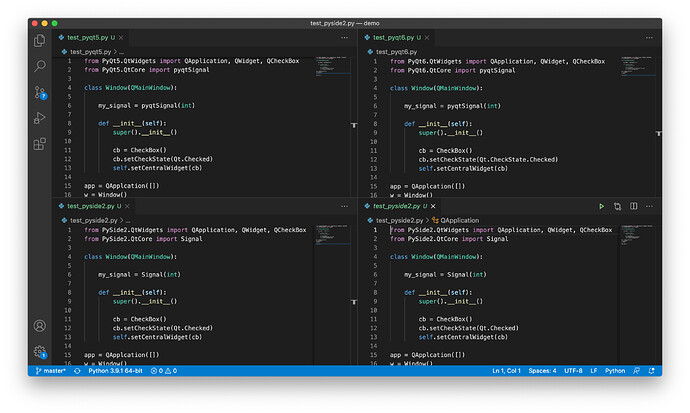 .
The views will be sync-scrolled and updated live.
If 4 is too much, I could possibly re-record separate videos for Qt5 and Qt6 versions?
Thoughts please!