Trying to extend the QSystemTrayIcon example by using a for loop to populate the menu only the last item in the list gets used in the menu. Why is this, and what would be the proper way to do this? In the real world, the contents of entries would be determined programatically rather than hardcoded.
#!/usr/bin/env python3

from PyQt5.QtWidgets import QApplication, QSystemTrayIcon, QMenu, QAction
from PyQt5.QtGui import QIcon


app = QApplication([])
app.setQuitOnLastWindowClosed(False)

icon = QIcon.fromTheme("application")
tray = QSystemTrayIcon()
tray.setIcon(icon)

tray.setVisible(True)

menu = QMenu()
entries = ["One", "Two", "Three"]
for entry in entries:
    action = QAction(entry)
    menu.addAction(action)
    action.triggered.connect(app.quit)

tray.setContextMenu(menu)

app.exec_()

Results in: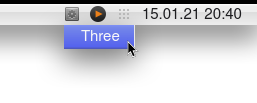 What happened to One and Two?
% python3 --version
Python 3.7.9

% pkg search Qt | grep py37-qt5-5
py37-qt5-5.15.2